Order by Mail
Signed prints, books and posters may be ordered through the mail by personal check or money order. Please include the following information.
Title or Product Description
Photo Number (if applicable)
Print Size (if applicable)
Quantity
Shipping Address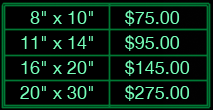 Include Shipping Cost - All orders will be shipped postal priority unless otherwise specified. Add $5.95 for each print ordered if you are inside the U.S. and Canada. Email us for shipping charges to other countries.
Submit your order to:
Images on the Wildside, Inc.
18 Gardner Park Drive
Bozeman, MT 59715
Please feel free to email or phone us at 406-539-9272 if you have any questions.